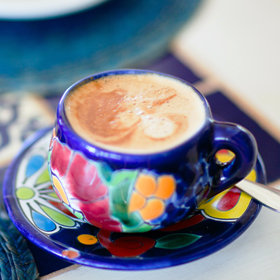 Dirty Chai Latte
You can easily make a Dirty Chai Latte using any of Chaikhana Chai Concentrate's flavors.
Simply add a shot of espresso (or strong coffee) to our regular Chai Latte recipe and experience this delicious and popular version of a chai latte. Treat the family at your next Sunday Breakfast or your friends at a celebration brunch.
The most difficult part of this recipe is choosing your favorite combination. The flavor of espresso is most noticeable when used with our Green-LightlySweet flavor, but the Original-vanilla is favored by those who love a rich & smooth blend of flavors…and of course, Masala-spicy creates it's own, whole new level of complex spiciness when espresso is added to the brew!
Any type of milk or dairy alternative is fine. They too will add different levels of texture and flavor depending on what you use. Be creative and find your favorite "mix". Maybe even top off your cuppa with whipped cream and a dusting of cacao powder. Yes Please!
---