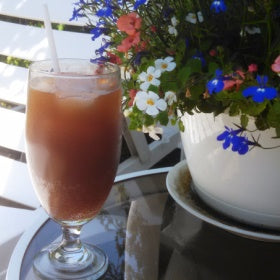 Sparkling Vanilla Iced Chai
SPARKLING VANILLA ICED CHAI is a Summer-time favorite for an afternoon in the park or by the pool. Treat yourself and your guests to a healthy refreshment that tastes remarkably like a vanilla cola!
To make a single drink:
Measure 4 oz. "Original – Vanilla" Chaikhana Chai Concentrate into a 20 oz. glass. Add freshly carbonated water and ice to fill. Stir and sip with a straw. Feeling festive? Add a splash of vanilla vodka!
To make a 1/2 gallon (approximately 6 servings):
Pour one 16 oz. bottle "Original" Chaikhana Chai Concentrate into a 1/2 gallon pitcher. Add 1 1/2 quarts sparkling water or seltzer. Stir and chill. Stir again before pouring into ice-filled glasses.
You can make this drink 24 to 48 hours in advance of use. IDEA: Refrigerate the mixed tea in a 2 liter seltzer bottle with a tight fitting cap to preserve the sparkle. When ready to serve, tip upside down and back upright to mix. Pour into a server or glasses filled with ice. Cheers!
---